The Adventure Begins
Partial Map of Cotile Lake
Course of the Search for Alligator Strongholds Charted with Leffley Australian Laptop and Global Positioning System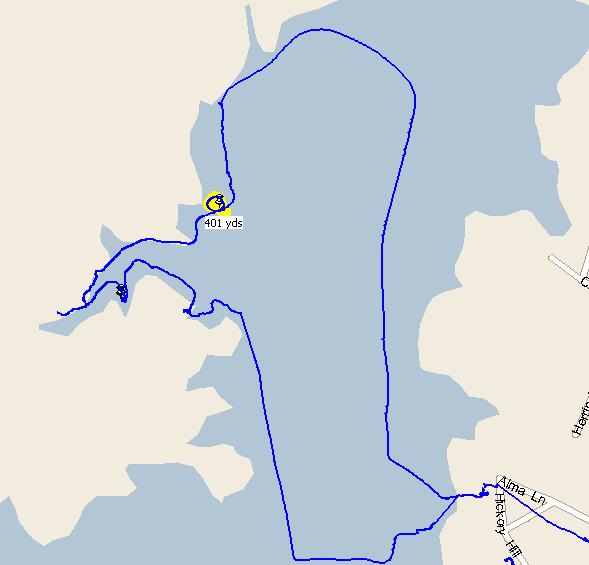 We spent the morning of October 5, 2004, scouting Cotile Lake for where the beasts would be waiting for us tonight. Above you can see the four hundred-one yard swath we cut around Bob's Island, the yellow blob up in the north-east portion of the map, as we used the GPS system to explore places the gators were known to hide.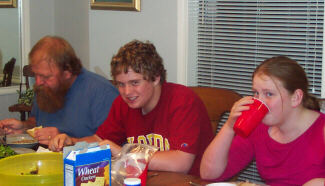 Rod, Ben and Jessie Leffley Eat at my Great Grandfather's Table
Before heading out on the hunt, we fortified ourselves with Louisiana Gumbo and salad. In the gumbo there were lots of things: shrimp, chicken, sausage, okra, rice and filé. There was talk that it had alligator, too. But first we made the roux.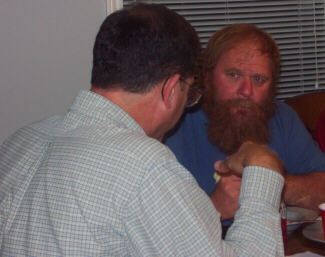 R. Loeffler Eats with R. Leffley
Randall Loeffler buys and sells agricultural products. Here he is explaining how his team is involved in recycling turkey excrement into fertilizer. It appears to have been an engrossing conversation.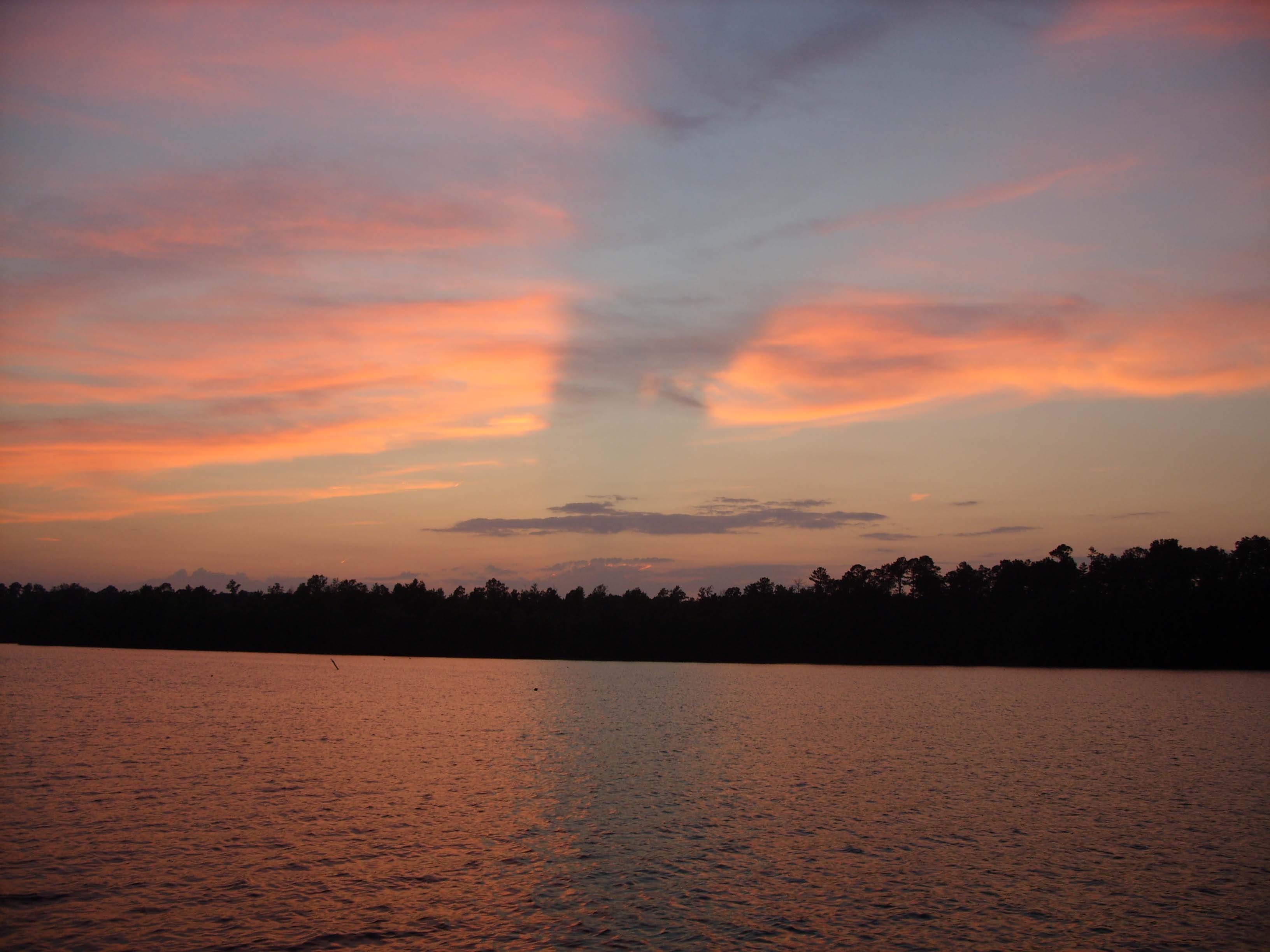 The Sun Sets on Cotile Lake off our Boat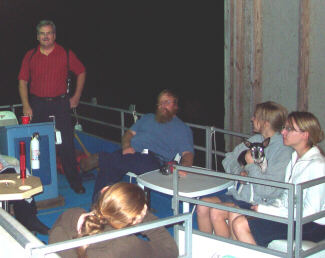 Crew of the Pulcheria
Sandy snapped this photo before she boarded the Pulcheria. Going clockwise I'm standing with my 357 magnum revolver strapped under my left shoulder, Rod is next, followed by Patty Loeffler, holding our Rat Terrier, Hamilton, then Katie Hein, a German exchange student in our parochial school, and on around is Jessie Leffley.
As we slipped out of the boat house onto the main body of the lake . . . as far as the eye could see, darkness covered everything, blacker than a hundred midnights down in the cypress swamp, and the only light was the glow of our torches (flashlights). We kept waiting to see the glint in the yellow glow of one of the great beast's eyes . . .

Cotile's alligator population must have sensed that the Blue Mountain Man had come all the way from Lithgow in Australia, and they hid in terror, never once opening their eyes lest the light of our torches give them away, knowing that Ram-Rod Leffley would dive into the murky waters and subdue them with his bare hands. But just in case, I was ready as a back-up in case Rod was overpowered, as can be seen in this photo taken by Ben Leffley.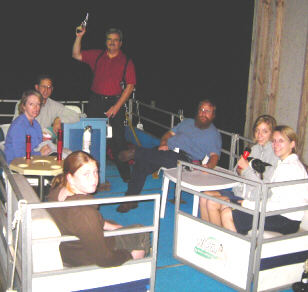 Clockwise
Bob, standing with his pistol in readiness to protect the Blue Mountain Man, Blue Mountain Man, Rod Leffley himself, Patty Loeffler with Hamilton, Katia Hein, Jessie Leffley, Beth Loeffler and Randall
We were a tad concerned about the Blue Mountain Man after hearing of his adventure with wildlife at America's Grand Canyon. He petted a squirrel who took revenge.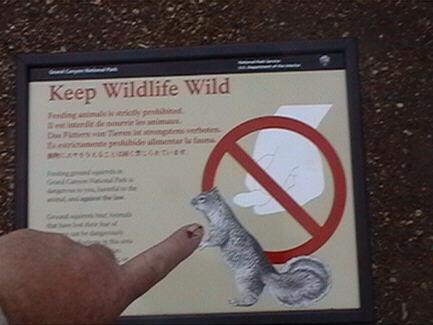 Rod's Bleeding Finger Demonstrating what Happens When You Don't Follow the Rules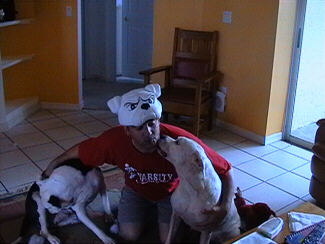 Rod Uses his Camera to Keep Bulldog Fan, Chris Attaway, and his Dogs Under Control in Florida Before Arriving in Louisiana
Earlier in the day, Rod, Ben and Jessie visited our church's parochial school, Grace. Below are two photographs that Rod snapped of part of one of our second grade classes, this one taught by Kathy Devens. On Wednesday he is to lecture my twelfth grade class on how Australians understand reality.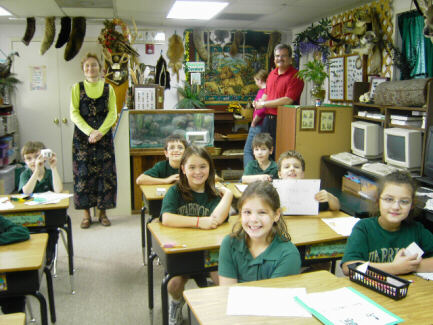 Kathy Devens, standing. Jessie is just to the left of me, admiring Louisiana wildlife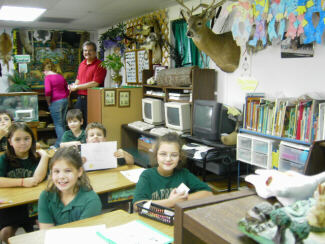 One of three mounted deer in the room, to the right of Jessie and me. Early in life Louisiana people learn that everything is good to eat -- just kidding . . . not quite.
Addendum
About Twenty Months After the Leffley Visit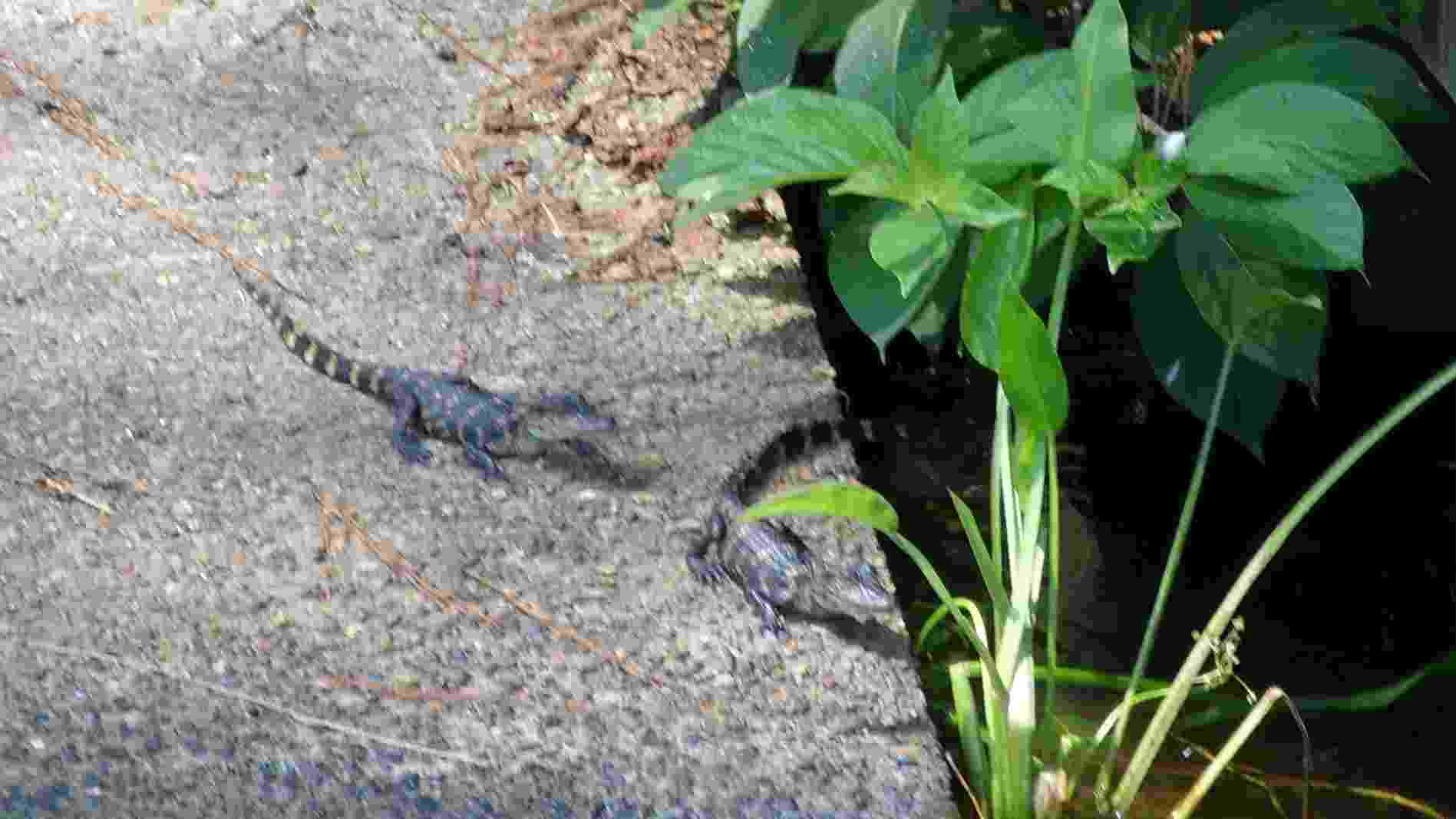 Baby Alligators Ready to Jump into Cotile Lake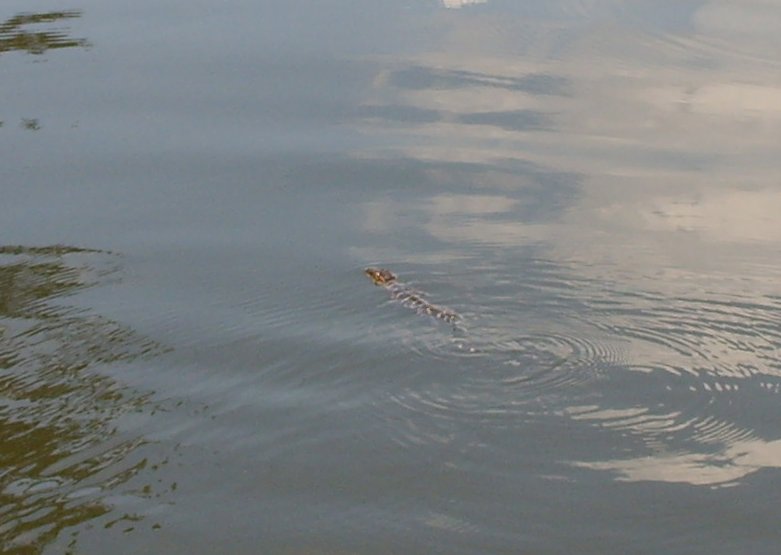 Baby Alligator Swims away in Cotile Lake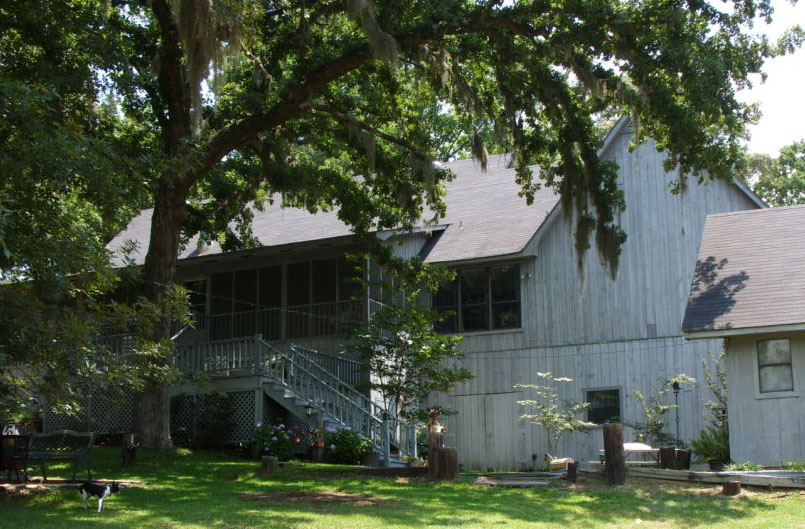 Back Home