Vincents
80 Hickory Hill Drive
Boyce, Louisiana 71409-8784
(318) 793-5354
There are three general ways to get here from the Alexandria/Pineville area. (Directions from Shreveport and Leesville are at the end, after the two maps below.)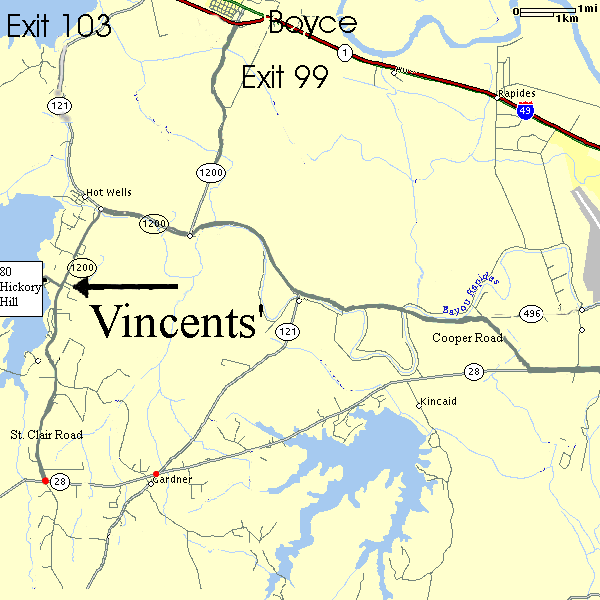 If you are driving from Alexandria/Pineville on I-49 (This is several miles longer than the Highway 28 route.), take the second Boyce exit, 99, Highway 1200, with the sign Cotile Recreation Center. Study the map above for the turns of Highway 1200.
If you are coming on Highway 28, either turn right onto Cooper Road (the shortest route), which is almost 5 miles from Menard High School, or continue on 28 past Tunkís and past Gardner until you see the Dollar General Store on your left, then turn right onto St. Clair Road. Go 2.2 miles on St. Clair until it ends on Highway 1200, then turn right and go 1 mile and then turn left onto Gwen Parkway.
If you take the shorter route using Cooper Road onto Hot Wells Road, or if you come on I-49, Cotile Lake will be on your right (even though you canít see it), so you will turn right onto Gwen Parkway off 1200. It is 1.5 miles to Gwen Parkway from the point where 1200 turns onto Cotile Park Road.
Whichever of the three ways you use, it is one half mile from Highway 1200 to our driveway, and you must use Gwen Parkway, bearing right as it becomes Alma Lane and ends at 80 Hickory Hill Drive.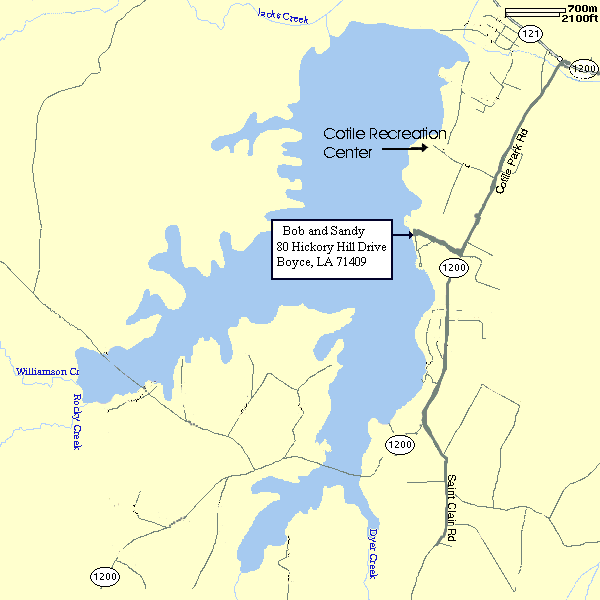 Our house is on Cotile Lake, the first house on the lake south of the Cotile Recreation Center. We are at the junction of Alma Lane and Hickory Hill Drive. We are east of Cotile Lake and west of Highway 1200, eight tenths of a mile north of the Lil' Boo's Store, if you come the St. Clair Road route. (31E 18' 21" North Latitude, 92E 42' 37" West Longitude.)
If you are coming from Leesville,
Drive toward Alexandria, but turn left onto Saint Clair Road, where there is a Dollar General Store. If you reach Gardner, you have gone a couple of miles too far to the east.
If you are coming from Shreveport,
Drive toward Alexandria on I-49, roughly one hundred miles from the beginning of I-49, and take exit 103, Flatwoods/Northwood High School. At the bottom of the exit ramp, turn left and travel over I-49 until you come to the intersection with Highway 1 (A Shell station is at this intersection.) and turn right, going toward Boyce. You will pass Northwood High School on your left and then you will come to a sign for Highway 121 and Cotile Recreation Center, turn a very sharp right and travel on Highway 121 several miles until you see another sign for Cotile Recreation Center, and turn right onto Highway 1200. (This is shortly after the sign for Highway 1201, Hot Wells; do NOT turn onto Highway 1201.) Stay on Highway 1200 for a mile and a half and then turn right onto Gwen Parkway, bearing right as it becomes Alma Lane and ends at 80 Hickory Hill Drive, one half mile away.